A High Standard of Dyeing - A Tie Dye Clothing Company
San Francisco and the Bay Area's very own Jonathan Kates takes you back to some of the Best Tie Dyes from where it all began.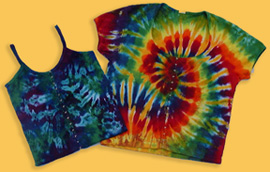 I have over 30 years of tie dye experience and have enjoyed creating works of art for people of all ages, sizes, and political preferences. For those of you who know me, I sell the majority of my tie dye pieces at craft shows, street faires, and art festivals. This has always been the best way to visually see, touch, and try on the various garments in an array of fabrics, colors, and sizes.

When I create my designs and color schemes, I choose colors that blend and work well together. This has always been the focus of my art and what hopefully makes me stand out from the others. I currently have over 10 designs and 45 color schemes that I work and match with on a regular basis with even more on the horizon.

Although I have created these set designs and color choices, what your are getting is truly one-of-a-kind wearable art. From 10 feet away two identical shirts, dyed exactly the same, may look exactly alike. But when held up 2 feet away, one can then identify the unique patterns and differences in each shirt. There are never two alike.
...........That's why this art form is SO COOL. Please keep in touch with my website as it expands with new pages, product lines, color and design schemes, festival and show schedules, and just plain fun. Enjoy!
Jonathan Kates - Tiedyejon

Note - The Garment page is undergoing a renovation this spring of 2015. Please email or call if you have any questions. Thanks